Gingrich camp hits out at Mitt Romney 'panic attack'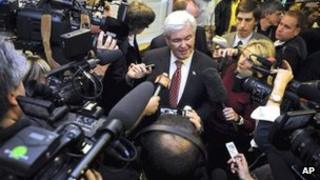 Supporters of Republican presidential candidate Newt Gingrich have hit back at his main rival Mitt Romney.
A day after Mr Romney's campaign set its backers on Mr Gingrich, an ally of the former House Speaker accused his competitor of "a panic attack".
Mr Gingrich has surged past the former Massachusetts governor to lead opinion polls in several early voting states.
They are among eight candidates vying to be the Republican who runs against President Barack Obama in 2012.
Early next month, voters in Iowa will hold the first of a series of state-by-state contests that will help pick the Republican presidential nominee.
On Friday, Iowa state Representative Linda Upmeyer, a Gingrich supporter, said the Romney campaign was getting desperate.
"It looks like a panic attack," she told the Associated Press news agency.
Not a playwright
In an interview with ABC News on Friday, Mr Romney defended his campaign and maintained his distance from those directly attacking his main rival.
Romney surrogates assailed the former House Speaker on Thursday, describing him as irrational and unfit to lead.
But Mr Romney denied he had told Missouri Senator Jim Talent and New Hampshire Governor John Sununu what to say about Mr Gingrich.
"Well [there are] a lot of people that worked with Speaker Gingrich in the past and they're going to say whatever they will," Mr Romney told ABC News. "Heaven knows I can't write a script for all the people that support me."
Also on Friday, Mr Romney's backers began airing a TV attack ad against Mr Gingrich in Iowa, part of a $3.1m (£2m) campaign.
Speaking to ABC, the former Massachusetts governor pushed back that ads focusing on his stable family life were in effect an attack on Mr Gingrich's three marriages.
"Actually, in each of my campaigns, I've begun advertising season with an ad about me and my family and my values," he said.
Mr Gingrich had said on Thursday he would stay "positive" in the face of the Romney campaign offensive.
Trump debate doubt
Meanwhile, tycoon Donald Trump has said he might cancel a presidential debate he wanted to moderate later this month.
Mr Gingrich and former Senator Rick Santorum are the only candidates who said they would join the forum in Iowa on 27 December.
Mr Trump expressed surprise that Minnesota congresswoman Michele Bachmann had declined to attend.
"She said if she wins, she would like to think about me for the vice-presidency," he said.
"Most importantly, I did a two-hour phone call for her with her people... and after all that, she announced she was not going to do the debate.
"It's called loyalty. How do you do that? It's amazing to me."
Mr Trump - who earlier this year flirted with a run for the Republican nomination - also issued a statement on Friday saying he still might run for the White House as an independent if he does not approve of the party's eventual candidate.
The presidential campaign of Texas congressman Ron Paul had said a debate moderated by Mr Trump, a reality TV star with a book to promote, would result in a "circus-like atmosphere".
Another contender, former Utah Governor Jon Huntsman, said the forum would be an example of "show business over substance".