Obama supports block on access to morning-after pill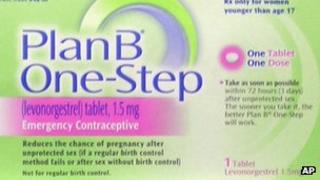 US President Barack Obama has defended a decision by his administration to maintain age restrictions on sales of an emergency contraceptive pill.
He said that as a father of two girls, he saw the decision as "common sense".
The move overruled a Food and Drug Administration recommendation and has divided opinion in Washington.
The drug, Plan B One-Step, is available behind the counter in pharmacies but girls younger than 17 require a prescription to obtain it.
President Obama said he had not been involved with making the decision and that administration officials were not questioning whether it was safe to use the drug.
But he said health officials had worries about young girls having access to the drug.
"When it comes to 12-year-olds or 13-year-olds the question is can we have confidence that they would potentially use Plan B properly?" he said.
"Most parents would probably feel the same way," he added.
Agency baffled
In making her decision to continue limiting access to the drug, Health and Human Services Secretary Kathleen Sebelius said she thought very young girls should not be able to buy the pills on their own.
She was worried it could confuse girls as young as 11 years old, officials said.
"As the secretary has stated, Plan B will remain available to all women who need it, and the president supports the secretary's decision," White House spokesman Nick Papas told reporters on Thursday.
But Margaret Hamburg, commissioner of the FDA, said overturning the agency's decision was unusual and the matter had been considered in detail.
"There is adequate and reasonable, well-supported and science-based evidence that Plan B One-Step is safe and effective and should be approved for non-prescription use for all females of child-bearing potential," she said.
At least one Democrat, Senator Patty Murray of Washington, has asked Ms Sebelius to explain her decision.
However, Republicans have praised the move. Republican Senator Chuck Grassley said: "This is the right decision based on a lack of scientific evidence that it's safe to allow minors access to this drug, much less over-the-counter."
Plan B is a type of emergency contraception that, if taken within 72 hours of unprotected sex, can reduce the chances of pregnancy by up to 89%, experts say.
Other varieties of emergency contraception include Next Choice, a generic drug sold behind the counter, and Ella, a prescription-only drug.
Plan B prevents ovulation and fertilisation of an egg but is not effective for women who are already pregnant. Medically, pregnancy is said to begin after a fertilised egg embeds itself in the wall of the uterus.
Critics of the drug have labelled it an "abortion drug" for its role in preventing attachment of an egg to the uterus.