Obama and Harper split on Keystone XL pipeline deal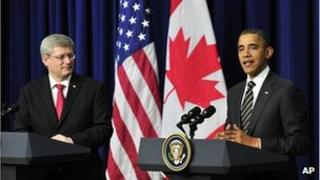 A controversial oil pipeline linking Canada and the US must be assessed for environmental impact, the US president has told Canada's prime minister.
Meeting Canadian PM Stephen Harper at the White House to sign a border deal, Barack Obama rejected US Republican calls to approve Keystone XL.
Mr Obama had an "open mind" on the project, Mr Harper told reporters, but wanted a full assessment carried out.
The 1,600-mile (2,700km) pipeline would run from Canada to the Texas coast.
"He's indicated to me, as he's indicated to you today, that he is following a proper [process] to eventually take that decision here in the United States, and that he has an open mind in regards to what the final decision may or may not be," Mr Harper said.
'New, modern border'
Canada's prime minister has long backed the Keystone XL plan, which would create jobs in the US and in Canada and enable oil from the Canadian province of Alberta to reach the world market.
But the Obama administration last month delayed a decision on the pipeline until a new assessment of the environmental impact of its route is completed.
That is not expected to be finished until 2013 - after the US presidential election.
Mr Obama, meanwhile, explicitly rejected calls from Republicans in the US Congress to link approval for Keystone XL to Mr Obama's push to renew a soon-to-expire payroll tax cut.
"Efforts to tie a whole bunch of other issues to what's something that they [Congress] should be doing anyway will be rejected by me," Mr Obama said.
In the main business of the day at the White House, the two leaders unveiled a trade deal and perimeter security agreement that Mr Harper said would create a "new modern border".
"Together, they represent the most significant steps forward in Canada-US cooperation since the North American Free Trade Agreement," he said.
The deals would allow easier access to ports and increase harmonisation of security checks and procedures at land borders.