Dozens of Occupy protesters arrested in Washington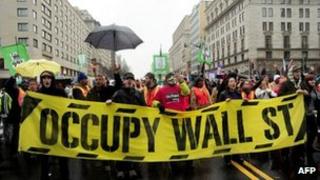 Dozens of protesters have been arrested by police in the US capital, Washington DC, during a march to protest against the influence of money in politics.
A total of 62 people were arrested, police told the BBC.
Thousands of demonstrators shut down sections of K Street in the city's downtown area, known as the home of lobbying in the nation's capital.
Police blocked off part of the street during the otherwise peaceful protest held in heavy rain.
Elsewhere, in San Francisco police arrested 70 people during an overnight raid on that city's Occupy encampment.
Demonstrators there were given five minutes to gather their belongings before police took down about 100 tents.
Sit-ins at the Capitol
In Washington, the march down K Street was part of a four day protest billed as Take Back the Capitol.
The protest is being supported by the Service Employees International Union, one of the largest US labour unions, which received the permit for the march. Occupy DC protesters - who have been camped in Freedom Plaza and McPherson Square in the city - also took part.
Protesters laid down in the centre of a busy city centre junction as police issued warnings to move or face arrest, the Associated Press news agency reported.
As those arrested were carried into police vans, other protesters jeered from the side of the road.
Co-ordinated online using the hashtag #99inDC, further protests are planned on Wednesday evening at a fundraising event for Republican presidential candidate Newt Gingrich and in front of the White House and Supreme Court.
On Tuesday, protesters sat outside the offices of House and Senate members, including House Speaker John Boehner and Senate Minority Leader Mitch McConnell, both Republicans.
Others walked into Charlie Palmer Steak, a popular restaurant for Washington power-brokers, and began chanting.
Over the weekend, police arrested 31 protesters at the Occupy DC encampment after protesters built a wooden barn at McPherson Square, off K Street.