Ex-Black Panther Abu-Jamal has death sentence dropped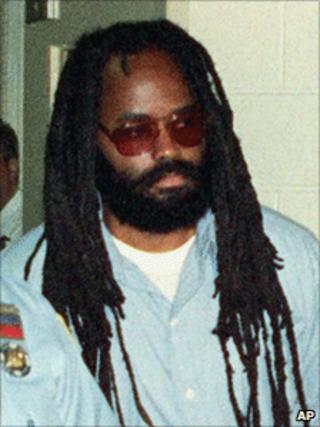 Former Black Panther Mumia Abu-Jamal is facing the prospect of life in prison after prosecutors said they would not press for the death sentence.
Abu-Jamal was found guilty of shooting dead a white policeman in 1981.
Now 58, he was sentenced to death in 1982, a year after he was convicted for the killing of Philadelphia policeman Daniel Faulkner.
The decision not to seek execution was made by prosecutor Seth Williams with the consent of the victim's widow.
While Abu-Jamal's conviction has been upheld through a series of appeal cases, a new sentencing hearing was ordered by a federal appeals court after it was ruled that instructions given to the jury could potentially have been misinterpreted.
In October, the US Supreme Court refused to intervene in the case, forcing prosecutors to decide whether to submit a renewed request for the death penalty, or accept a life sentence.
Abu-Jamal's case has attracted support around the world from people who believe he was the victim of racial prejudice in the US justice system.
Actors such as Mike Farrell and Tim Robbins once joined with other well-known faces to call for a new trial through an advertisement in the New York Times, while rappers the Beastie Boys held a concert that collected funds for Abu-Jamal's defence fund.