Record settlement for West Virginia mine explosion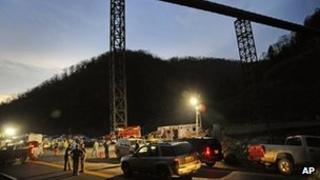 A coal company is to pay $210m (£135m) in damages for one of the worst US mining tragedies in decades, which killed 29 men in April last year.
The mine's new owner will compensate victims' families, pay fines and upgrade safety features.
It is the biggest settlement ever reached in a US mine disaster.
Officials say the accident at the Upper Big Branch pit in West Virginia was caused by methane gas, coal dust and faulty machinery.
A federal investigation into the incident has found that the mine violated 369 safety regulations, 12 of which contributed to the blast.
Under the deal announced on Tuesday, Alpha Natural Resources - which acquired the mine's owner, Massey Energy, this year - will pay the fine.
Other lawsuits filed by employees and relatives of the victims are still pending.
The agreement includes $128m in safety upgrades, research and training, and $35m in fines for federal mine-safety violations.
It also allocates $46.5m for the victims' relatives - or about $1.5m per family.
Eighteen families of miners who died in the explosion have already settled wrongful death lawsuits.
Nine cases brought by employees claiming emotional distress are ongoing.
The agreement does not prevent former Massey Energy executives from being prosecuted.
"No individuals are off the hook," federal prosecutor Booth Goodwin told journalists in Charleston, West Virginia.
The mine's security chief at the time of the blast, Hughie Elbert Stover, is the only person to have been prosecuted so far.
A federal jury convicted him last month of lying to investigators and trying to destroy mine records.
The $210m settlement is one of the largest reached over a workplace safety crime and the biggest ever resolution of a criminal investigation into a US mining disaster.