Iowa poll gives Newt Gingrich big lead over Mitt Romney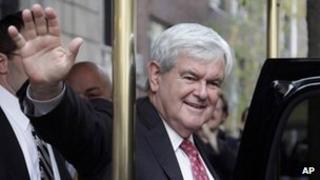 Surging Republican presidential candidate Newt Gingrich has a double-digit lead over Mitt Romney in the key election state of Iowa, a poll shows.
The former House of Representatives Speaker was on 33%, compared with 18% for Mr Romney and Ron Paul in the ABC News/Washington Post survey.
Meanwhile, it was reported Mr Romney had erased email records in his last weeks as governor of Massachusetts.
The contenders are competing to become next year's Republican nominee.
In January, Iowa will hold the first in a series of state-by-state contests that will help pick the party's candidate to challenge Barack Obama for the White House in November 2012.
The poll published on Tuesday found that Iowa voters rated Mr Romney behind Mr Gingrich in terms of empathy, experience and electability.
Herman Cain endorsement?
And despite Mr Romney's much-vaunted career in the corporate world, only 20% would trust his handling of the economy, compared with 27% for Mr Gingrich.
But more than six in 10 potential Iowa voters said they could change their minds about whom to pick.
It is the latest survey to suggest a double-digit lead in Iowa for Mr Gingrich, whose campaign nearly imploded in June when almost his entire staff quit.
Meanwhile, a New York Times/CBS News poll on Tuesday showed 31% of voters in Iowa thought Mr Gingrich had the best chance of beating President Barack Obama, while 29% said the same of Mr Romney.
But whether the thrice-married 68-year-old can keep up the momentum or fade away like other front-runners before him remains to be seen.
Mr Gingrich's rise in the polls began as rival Herman Cain's campaign began to buckle under allegations of adultery and sexual harassment.
There has been speculation that Mr Cain, who halted his bid for the presidency on Saturday, may endorse Mr Gingrich.
Meanwhile, Reuters news agency reported that during Mr Romney's final weeks as governor of Massachusetts in 2007, he spent $100,000 (£64,000) in state funds to replace computers in his office, wiping emails and other electronic communication.
The move was described by Theresa Dolan, former director of administration for the governor's office, as unprecedented, albeit legal.
The erasing of records took place shortly before Mr Romney launched an unsuccessful campaign for the Republican presidential nomination in 2008.
During his tenure in Massachusetts, he signed a healthcare law similar to one - detested by Republicans - introduced nationwide last year by President Obama.
Mr Romney has maintained a steady position at the front of the Republican pack throughout the early campaign season, as other candidates have risen and fallen.
He has ramped up his campaign in Iowa, a state that has traditionally been a stronghold for religious conservative candidates.
In the 2008 election cycle, despite making a significant investment in that state, Mr Romney was not able to win it.