US 'concerned' over drone lost near Iran border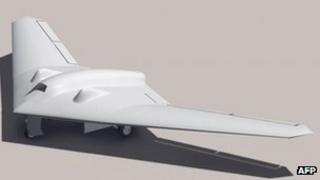 US officials have expressed concern at the loss of a drone near Iran's eastern border with Afghanistan.
A Pentagon spokesman said the US was worried especially as the unmanned aircraft was "in a place where we're not able to get to it".
Iranian media say the drone was shot down and was now in the hands of the armed forces. It said the plane had suffered minimal damage.
The drone, known as a Sentinel, is the first such loss by the US.
US Navy Capt John Kirby said the US was concerned about any opportunity for Tehran to acquire information about the technology.
"I think we're always concerned when there's an aircraft, whether it's manned or unmanned, that we lose, particularly in a place where we're not able to get to it," the Pentagon spokesman said.
NBC News reported that the drone was on a CIA mission at the time, but it was unclear if it was flying in Afghanistan or Iran.
Some analysts argue that Iranian military forces will not be able to replicate the technology - if they have found useable parts at all.
"This is a high-flying unmanned aircraft that malfunctioned and then fell to earth. It's likely to be broken up into hundreds of pieces," defence analyst Loren Thompson told the Associated Press news agency.
'Sensitive mission'
In a statement at the weekend, the Nato-led Isaf force said: "The UAV [unmanned aerial vehicle] to which the Iranians are referring may be a US unarmed reconnaissance aircraft that had been flying a mission over western Afghanistan late last week. The operators of the UAV lost control of the aircraft and had been working to determine its status."
The RQ170 Sentinel is a stealthy and highly capable unmanned aircraft. It is shaped like a large flying wing similar to the profile of the manned B2 stealth bomber.
Its shape and materials give it a low radar signature and it is clearly used for some of the most highly sensitive missions, says BBC defence and diplomatic correspondent Jonathan Marcus.
First spotted at Kandahar air base in Afghanistan in 2007, an RQ170 Sentinel was used by the Americans to provide real-time intelligence over Osama Bin Laden's compound in Abbotabad, Pakistan, both before and during the raid by US special forces earlier this year.
Iran said in July it had shot down a drone over the holy city of Qom, near its Fordu nuclear site.
Last January, it said it downed two "Western spy drones" in the Gulf, but produced no evidence to support the report.