Hedge-fund head Rajaratnam begins 11-year prison term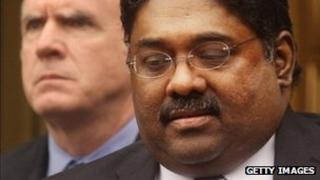 Disgraced hedge fund founder Raj Rajaratnam has arrived at a federal prison to begin serving the longest-ever sentence for insider trading.
Rajaratnam, who was sentenced to 11 years in jail, reported to a facility in Massachusetts.
He was fined $92.8m (£59.2m), also a record, and his case has led to more than two dozen related convictions.
The Galleon Group founder lost his bid to be freed during the appeals process, as he was considered a flight risk.
He reported on Monday to the Federal Medical Center in Devens, Massachusetts, which specialises in inmates who need medical care.
The Sri Lankan-born tycoon has advanced diabetes and will soon need a kidney transplant. His poor health was a sentencing consideration.
Rajaratnam was convicted in May on 14 counts related to insider trading.
His prison term is nearly half of the 20 years recommended by prosecutors.
He made more than $60m in illegal profits in a scheme that enlisted friends and associates both at hedge funds at a publicly traded companies.