FAA chief Randy Babbitt in drink-drive arrest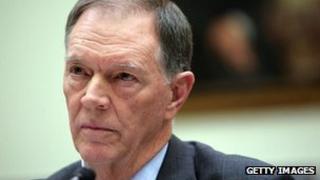 The head of the Federal Aviation Administration has been placed on leave after his arrest for drunk driving.
Randy Babbitt, 65, was detained in Fairfax City, Virginia, on Saturday evening after police allegedly saw him driving on the wrong side of the road.
US officials say his employment is now under review with legal counsel.
Mr Babbitt, who had also served as president of the Air Line Pilots Association, was appointed to the US airline safety watchdog in 2009.
He was charged with driving while intoxicated.
Fairfax City Police said Mr Babbitt, who lives in nearby Reston, Virginia, was the only person in the vehicle.
A statement from the Department of Transportation - which the FAA is a part of - said officials were not aware of the arrest until Monday afternoon.
Mr Babbitt's request for an immediate leave of absence was granted.
Deputy Administrator Michael Huerta will serve as acting administrator.