White House defends US envoy Gutman over Israel remarks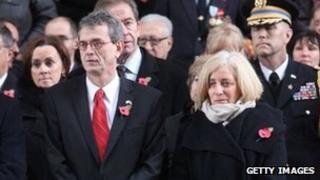 The White House has rejected Republican calls to sack the US envoy to Belgium over remarks he made last week on anti-Semitism in Europe.
Ambassador Howard Gutman said failure to resolve the Middle East conflict was breeding a new type of bigotry.
Republican presidential candidate Mitt Romney accused the envoy of downplaying anti-Semitism.
But the Obama administration said it had "full confidence" in the diplomat, and that he was expressing his opinion.
"He was sharing his views on an issue," state department spokesman Mark Toner told reporters on Monday. "Our commitment to Israel's security is ironclad."
'So wrong'
Ambassador Gutman - who is Jewish and the son of a Holocaust survivor - opened his speech to a Brussels conference last week on anti-Semitism in Europe by apologising for not "saying what you would expect me to say".
The diplomat said a new form of anti-Semitism was growing, in which Jews were being targeted because of resentment over the Arab-Israeli conflict.
"It is the area where every new settlement announced in Israel, every rocket shot over a border or suicide bomber on a bus, and every retaliatory military strike exacerbates the problem and provides a setback here in Europe for those fighting hatred and bigotry," he said.
"Were a lasting peace in the Middle East to be reached, were joint and co-operative Israeli-Arab attentions turned to focus instead on such serious, common threats such as Iran, this second type of ethnic tension and bigotry here in Europe - which is clearly growing today - would clearly abate."
Mr Gutman later issued a statement to stress that he condemned all forms of anti-Semitism, adding: "I deeply regret if my comments were taken the wrong way."
But Mr Romney, the former governor of Massachusetts, accused Mr Gutman of "rationalising and downplaying anti-Semitism".
"The ambassador's comments demonstrate the Obama administration's failure to understand the worldwide campaign to delegitimise Israel and its appalling penchant for undermining our close ally," Mr Romney said in a statement.
Another Republican presidential candidate, Newt Gingrich, the former House of Representatives Speaker, wrote on Twitter that President Barack Obama should sack Mr Gutman "for being so wrong about anti-Semitism".
White House spokesman Jay Carney rejected suggestions that the administration did not fully support Israel.
"This administration has consistently stood up against anti-Semitism and efforts to delegitimise Israel, and we will continue to do so," Mr Carney said on Monday.