US suicide-kit seller pleads guilty of tax fraud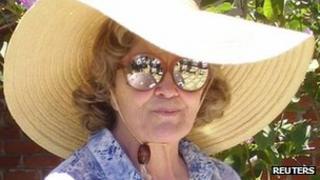 A 91-year-old Californian woman has pleaded guilty to failing to file federal tax returns for her company that made and sold suicide kits.
Sharlotte Hydorn admitted paying no tax on $66,717 (£42,775) of income in 2010. In a plea deal, she agreed to pay $26,000 in outstanding tax.
Federal agents found the kits when they raided the retired teacher's home in El Cajon, near San Diego, in May.
She made headlines after an Oregon man took his life using one of the kits.
The 29-year-old's death in December outraged the state's lawmakers, who are now working on a bill to outlaw such devices.
'Plastic rain hood'
The kits contained a plastic hood that closes around the neck and clear tubing to hook up to a petrol tank.
Court documents say she sold more than 1,300 of them for $40-$60 each, some internationally.
They were marketed under the brand name GLADD - Glorious Life and Dignified Death.
Prosecutors say Ms Hydorn also tried to hide the true purpose of her kits on US Customs forms.
She listed them as an "orchid humidifier", "beauty bonnet" or "plastic rain hood".
Ms Hydorn told the authorities she thought they would be used by the terminally ill.
She was granted bail on condition she does not assist any suicides.
Her sentencing is due on 16 February.