Santa Ana winds cut power in western US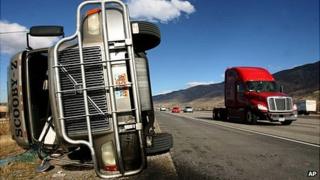 Hundreds of thousands of people have been left without power after 48 hours of ferocious winds across a swathe of states in the western US.
A state of emergency was declared in Los Angeles County, California as schools closed, trees were downed and lorries overturned on motorways.
Wind speeds slowed to around 60mph (97km/h) during the night on Thursday, and are set to ease further on Friday.
Annual Santa Ana winds in California blow from high mountains to the coast.
This year strong winter storm winds, moving east, are expected reach Oklahoma, Missouri and Indiana.
The National Weather Service high wind warning will remain in effect through much of the day on Friday.
The winds, reported to be the strongest in a decade, fanned fires in northern California and were said to have reached 123mph in Colorado.
More than 130 acres (53 hectares) of land in El Dorado County, California, were torched by wind-borne fire, the Sacramento Bee reports.
'Rather rare'
Latest figures suggest 270,000 people are still without power in southern California, according to the Associated Press news agency.
Davis County, Utah has issued a disaster declaration to access state funding and estimated $3.5m (£2.2m) worth of damage to infrastructure.
In Pasadena, 40 people were evacuated from their apartments after a tree crushed the roof of the building.
Daphne Bell, a Pasadena resident who has lived in the neighbourhood for 30 years, said: "This is the worst, the absolute worst. There were times it sounded like a freight train was roaring down my driveway."
Meteorologist Brian Edwards, with Accuweather, said: "It's one of the strongest events that I can remember. It's rather rare."