Vancouver riot: 25 charged over Stanley Cup violence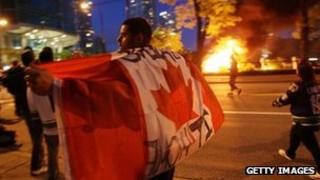 Twenty-five people face a total of 61 charges over violence in Vancouver after the Stanley Cup ice hockey final.
Cars were set on fire and buildings were looted in the city on 15 June after the Vancouver Canucks lost to the Boston Bruins in the final game of the NHL championship contest.
The charges include rioting, arson and breaking and entering.
In October, Vancouver's police department recommended 163 charges against 60 individuals.
"We are very encouraged by the approval of these 61 charges and we will continue to work closely with the special prosecution team as even more charges are expected in the coming days and weeks," Vancouver Police Department's Inspector Les Yeo wrote in a statement.
In mid-November, officials released 35,000 copies of a poster bearing the photos of suspects they had not yet been able to identify. Police say they received close to 100 tips on 48 suspects within days.
The sheer number of charges, with more expected, have left some worried about their effect on the already crowded British Columbia courts.
Canada's Globe and Mail newspaper reports that dozens of court cases have been abandoned in the province this year because of delays.