Reagan shooter John Hinckley wants leave from hospital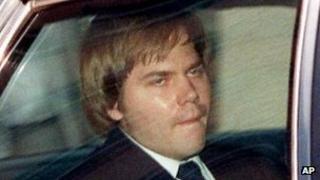 The man who tried to assassinate former US President Ronald Reagan has launched a legal bid to spend more time outside his mental hospital.
John Hinckley, now 56, shot Reagan outside a hotel in Washington in 1981 to impress the actress Jodie Foster.
His lawyer told a federal judge on Wednesday that Hinckley was not dangerous, and a psychiatrist agreed.
But prosecutors said he had recently been caught lying about a cinema trip and was "capable of great violence".
Hinckley attended Wednesday's hearing, dressed in a brown jacket, and occasionally whispered to his lawyer.
He has been allowed of late to stay with his elderly mother in the US state of Virginia for 10 days at a time.
Now he wants approval for 17-24-day visits to her home, with a view to eventual release.
Secret bookshop trip
But government lawyers told the federal judge that Hinckley had lied on two occasions recently about having gone to see a movie.
Secret service agents who tailed Hinckley found him looking at books about Reagan and presidential assassinations.
He then returned to the cinema lobby before his mother came to collect him, as if he had attended the screening.
Hinckley told hospital staff he gone to see Captain America and recommended the movie.
"Mr Hinckley has a long history of deception and misconduct," assistant US attorney Sarah Chasson told the judge. "Is this deception new? Of course not."
But psychiatrist Tyler Jones told the court he believed there was little chance Hinckley would commit violence.
"In my opinion Mr Hinckley represents a low risk of danger for himself and to others," he said.
A jury found Hinckley not guilty due to insanity after he attempted to assassinate Reagan.
His legal team say his mental condition has been in remission for about 20 years, while his secondary diagnosis of narcissistic personality disorder had reduced.
While he still takes medication the doses are small, and "the evidence shows he is not dangerous", said Hinckley's lawyer, Barry Levine.
Reagan survived the attempted assassination and went on to serve two terms as president. His press secretary, James Brady, a secret service agent and a police officer were also wounded. Reagan died at the age of 93 in 2004.