Penn State: Jerry Sandusky sued by new abuse accuser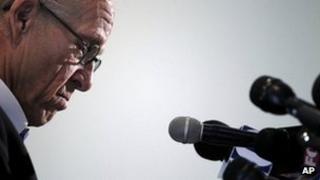 A new lawsuit alleges that former Penn State coach Jerry Sandusky molested a young boy more than 100 times in the 1990s.
Mr Sandusky was charged in early November with molesting eight victims over 15 years, but the new accuser is not one of those original eight.
Identified as John Doe, now aged 29, he met Mr Sandusky when he was 10.
Mr Sandusky has denied all charges of abusing boys, but has admitted taking showers with them.
According to the latest lawsuit, Mr Sandusky threatened the plaintiff's family to keep him quiet about the abuse.
The lawsuit claims Mr Sandusky abused the boy at Penn State facilities, at the coach's house and on the road.
"I am hurting and have been for a long time because of what happened, but feel now even more tormented that I have learned so many other kids were abused after me," the alleged victim said in a statement issued through his lawyer.
'Negligent oversight'
According to the lawsuit, Mr Sandusky began abusing the plaintiff, now an adult, shortly after meeting him in 1992.
Through the Second Mile Foundation, the charity the former assistant coach started to help underprivileged boys, he gave the plaintiff "gifts, travel and privileges" as well as asking him to stay at his home.
The suit also names the university and The Second Mile charity for disadvantaged children - established by Jerry Sandusky - as defendants, citing their "negligent oversight of Sandusky".
In a statement on his website, Jeff Anderson, the plaintiff's lawyer, said: "That Penn State failed these children is a mark that will go down in history as significantly as the cover-ups of sexual abuse in other institutions such as the Catholic Church and the Boy Scouts of America."
There have been reports that police are investigating up to 10 additional cases related to Mr Sandusky.
He has denied he abused any of the alleged victims, but admitted that he "shouldn't have showered with those kids" in a television interview.
When the original abuse scandal emerged, Joe Paterno - a legendary football coach with the most wins in top division college history - and the university's president, Graham Spanier, were fired by the Penn State Board of Trustees for failing to act over the alleged abuse.