Canada exports drive GDP growth to 3.5%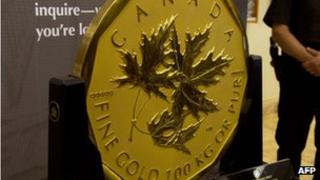 Canada's annualized GDP grew by 3.5% in the third quarter of 2011, exceeding growth expectations.
Analysts had expected a 3% growth rate after a previous decline in GDP. The growth was led by stronger exports and housing purchases.
The gain was the biggest quarterly growth since 2004, but both domestic demand and personal and government spending grew at a slower pace.
The United States's own GDP grew 2% in the same period.
Jim Flaherty, Canada's finance minister, welcomed the news as he met with investors in New York.
"Canada will continue to show the economic and fiscal leadership that helped us weather the global hardships we have already faced," Mr Flaherty said.
The Canadian dollar hit its highest level against the US dollar in more than two weeks on Wednesday after the news.
But some economists say the current euro crisis will not entirely pass Canada by, especially when a significant portion of growth came from exports.
"Growth was very narrowly based," Derek Holt, vice-president of economics at Scotia Capital, told the Wall Street Journal, adding that would "make the gain temporary in nature in my opinion".