Connecticut wealth managers win $250m jackpot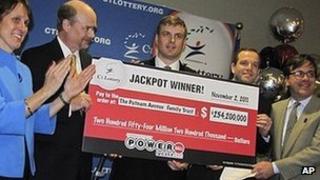 Three wealth managers who live in one of the richest cities in the US have won a lottery jackpot of $254m (£163m).
Greg Skidmore, Brandon Lacoff and Tim Davidson, from Greenwich, Connecticut, won the 2 November Powerball draw after buying a $1 ticket.
They formed a trust after the draw and went public once plans for the cash were finalised, a lawyer said.
The jackpot was the largest ever won in Connecticut and the 12th biggest in Powerball history.
After tax, the winnings will be greatly reduced but still extremely large, totalling $103,586,824.51, the Associated Press reported.
After realising they had won, the men formed a trust fund to help manage the money before going public.
A lawyer for the three men said a portion of that after-tax sum would be donated to charity.
"Obviously, everybody is extremely excited," said Jason Kurland, the lawyer. "These numbers are huge. This is going to benefit many people."
One more winner?
The three men all work for the same firm, Belpointe, one of many wealth management and investment firms operating in Greenwich.
The city consistently ranks among the wealthiest in the US, and is both a coastal haven for many Wall Street bankers and traders and a financial centre in its own right.
While the three wealth managers revealed themselves as the jackpot winners, another report emerged that a man of notably lesser means may also have had a claim on the cash.
A local shop owner told ABC News that a sanitation worker said he had bought a ticket with the same winning numbers.
"He says it's his number, but he can't find the ticket, lost the ticket. So I don't know what to say," Suni Patel said.