Herman Cain denies claim of 13-year extramarital affair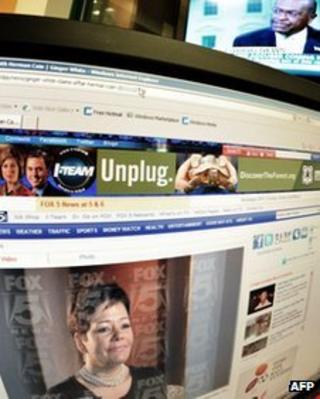 Republican presidential candidate Herman Cain has denied claims by a Georgia woman that she had a long extramarital relationship with him.
Even before Ginger White's allegations were aired, Mr Cain went on cable television to say he knew her, but that her story was false.
Ms White told an Atlanta TV station she had a 13-year affair with Mr Cain.
The claims come weeks after four women accused the Georgia businessman of sexual harassment during the 1990s.
His poll ratings have slipped since those allegations emerged.
'Here we go again'
Ms White, 46, told Fox 5 Atlanta on Monday evening: "It was fun. It was something that took me away from my humdrum life at the time. And it was exciting."
She said she first met Mr Cain after he gave a speech in Kentucky when he was head of the National Restaurant Association in the 1990s.
Ms White said Mr Cain had bought her airplane tickets so that she could join him in different cities.
"It wasn't complicated," said Ms White. "I was aware that he was married. And I was also aware I was involved in a very inappropriate situation, relationship."
The physical relationship ended eight months ago, just before the former pizza executive announced his run for the White House, she was quoted as saying by Fox 5 Atlanta's website.
In its report, the TV station said Ms White had Mr Cain's name in her mobile phone contacts, and that when its reporter called the number, the Republican candidate answered.
"He told us he knew Ginger White, but said he was trying to help her financially," the station said.
Mr Cain's lawyer, Lin Wood, said in a statement: "If any candidate wants to publicly discuss his private sex life, that is his or her life. But I don't believe that there's an obligation on the part of any political candidate to do so."
However, Mr Cain took the unusual step of going on television to issue a pre-emptive denial.
"This individual is going to accuse me of an affair for an extended period of time," he told CNN.
"It is someone that I know who is an acquaintance that I thought was a friend."
He added: "Here we go again. I didn't do anything wrong."
Mr Cain said he would not drop out of the race for the White House as long as he had the support of his wife.
In a written statement released immediately after the story aired, the Cain campaign said detractors were trying to "derail the Cain Train with more accusations of past events that never happened".
Mr Cain avoided reporters' questions at a fundraiser on Monday night in the Virginia suburbs of Washington DC.
In October, it emerged at least two women had agreed financial settlements with the National Restaurant Association in the 1990s over allegations of sexual misconduct by Mr Cain.
Two other women alleged inappropriate behaviour by Mr Cain; one accuser, Sharon Bialek, said he had groped her.
Mr Cain called the claims a "smear campaign".
Since the allegations emerged, Mr Cain has been usurped in opinion polls by former House Speaker Newt Gingrich as the perceived main conservative alternative to Mitt Romney.