Kansas governor regrets 'over-reaction' to teen's tweet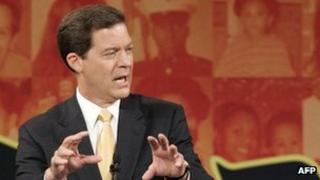 The governor of Kansas has apologised for his office's over-reaction to a disparaging tweet from a teenager sent during a visit to the state capitol.
Emma Sullivan, 18, tweeted last week that Governor Sam Brownback "sucked" and "#heblowsalot".
But after the governor's office saw the tweet and complained, she was told by her school to write an apology.
Her Twitter following has risen from 61 to 12,000 - four times the number of Gov Brownback's followers.
On Monday, the governor said in a statement: "My staff over-reacted to this tweet, and for that I apologize. Freedom of speech is among our most treasured freedoms."
Ms Sullivan has said she was the tweet was intended as a joke with her friends, but she spent almost an hour in the principal's office over it.
While listening to the governor's remarks in a hall full of students at the Kansas State Capitol on Monday of last week, the teenager tweeted: "Just made mean comments at gov. brownback and told him he sucked, in person #heblowsalot."
The Shawnee Mission School District said on Monday it would not force the teenager to write an apology.
"The issue has resulted in many teachable moments concerning the use of social media," it said in a statement. "The district does not intend to take any further action on this matter."