US students in Cairo are freed and 'set to return home'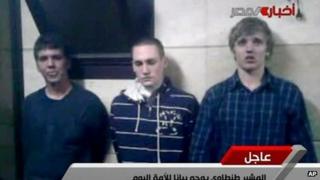 Three American students briefly detained in Cairo have been released and are due to depart for the US within hours, reports say.
On Thursday, an Egyptian court ordered the release of Derrik Sweeney and Gregory Porter, both 19, and Luke Gates, 21.
The students will fly to Frankfurt, and on to Washington DC on Saturday, said Derrik's mother Joy Sweeney.
The students allegedly threw firebombs at police during the protests.
The three were caught on the roof of a building at the American University in Cairo, where they were on study-abroad schemes.
'Ecstatic'
US officials have advised all three to leave Egypt as soon as possible after they are freed, Mr Sweeney's mother told the Associated Press.
Mrs Sweeney, said she was "ecstatic" to hear of her son's release and would be cooking him a belated Thanksgiving dinner. Mr Sweeney, from Jefferson City, Missouri, studies at Georgetown University in Washington DC.
Mr Gates's parents said they were "extremely happy" he would be home soon. Their son, of Bloomington, Indiana, is a student at Indiana University.
Theodore Simon, Mr Porter's lawyer, said that when speaking to his client by phone he seemed "calm and measured, demonstrating a maturity well beyond his 19 years". Mr Porter, of Glenside, Pennsylvania, studies at Philadelphia's Drexel University.
Dozens of people have died in a week of protests around Cairo's Tahrir Square that have seen some of the worst violence since before the fall of President Hosni Mubarak in February.
Protesters are demanding that the military step aside for a swift transition to democratic, civilian rule.