Canada judge backs anti-polygamy law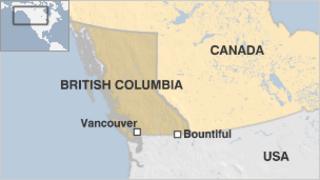 British Columbia's highest court has ruled that Canada's anti-polygamy law should stand.
Chief Justice Robert Bauman said the ban on multiple marriages was consistent with the Canadian Charter of Rights and Freedoms.
The case comes after a judge threw out polygamy charges against two bishops of the Fundamentalist Church of Jesus Christ of Latter Day Saints (FLDS).
Justice Bauman said the law "minimally impairs religious freedom".
"I have concluded that this case is essentially about harm," he wrote in his decision. "The salutary effects of the prohibition far outweigh the deleterious."
Culture or criminality?
Winston Blackmore and James Oler, the two rival bishops involved in prior polygamy charges, have said the law denied them their constitutional right to religious freedom.
Justice Bauman said the government's case had shown the law limits the harms expected to rise from polygamy, including spousal abuse, child neglect, and higher infant mortality.
The judge said, however, that the law should be changed to avoid criminalising the actions of minors in polygamous marriages.
Anne Wilde, a Mormon fundamentalist from Utah, testified at the hearing in support of striking down the law.
"There are already laws in place to address any criminal activity in any marriage lifestyle. Why don't they go ahead and enforce those laws rather than single out our culture?" she told the Associated Press.
The Supreme Court's decision could lead to prosecutions of members of the FLDS who practice polygamy in a settlement called Bountiful, in the south-east of the province.
The FLDS split from the mainstream Mormon church over the issue of polygamy, and has an estimated 10,000 followers in parts of the US and Canada.
Warren Jeffs, the group's leader, is serving a life sentence in Texas for sexually assaulting two child brides.