Harrisburg bankruptcy claim ruled illegal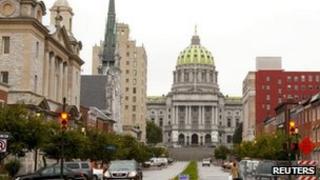 The city of Harrisburg, state capital of Pennsylvania, will not be allowed to file for bankruptcy protection, a federal judge has ruled.
The move was ruled illegal after a hearing lasting more than two hours.
Pennsylvania Governor Tom Corbett, who objected to the Chapter 9 bankruptcy petition, wants the city to pay down around $300m (£193m) of debt.
Harrisburg filed for bankruptcy in October, to avert a state takeover of the city's financial operations.
Bankruptcy protection, which would enable the city to seek leniency from its creditors, was also opposed by Harrisburg Mayor Linda Thompson, who said the city council lacked a credible debt repayment plan.
But Neil Grover, a lawyer from the taxpayer group Debt Watch Harrisburg, said that the city would be reduced to a shell if forced to pay all its debt.
"This is the kind of issue that goes to the Supreme Court," he told the Associated Press news agency.
Financial overhaul
At Wednesday's hearing, bankruptcy Judge Mary France said that according to state law the Harrisburg City Council did not have the authority to bypass the city mayor and file a petition for bankruptcy.
"We are certainly disappointed at the judge's ruling and while we respect her opinions we will take some time after Thanksgiving to determine whether we want to file an appeal," said City Councilman Brad Koplinski.
Mark Schwartz, the lawyer representing the city council, also said he was "leaning" towards filing an appeal.
Most of the debt facing the city of Harrisburg stems from a costly overhaul of a 40-year-old waste incinerator.
In 2003 - facing $100m of debt, environmental problems and fines already associated with the project - the Environmental Protection Agency shut down the incinerator.
But the city council chose to finance an overhaul of the incinerator rather than abandon it.
Ensuing complications meant the overhaul became much more expensive than initially thought and residents of Harrisburg now pay some of the highest rates in the country for garbage disposal. Meanwhile, the incinerator itself became mired in even more debt.
Correspondents say the Harrisburg case is being watched closely by those involved in other municipal bankruptcies around the US.
Earlier in November, Jefferson County, Alabama, filed a Chapter 9 bankruptcy petition for $3bn - the largest municipal claim in US history.