Blagojevich fundraiser Antoin Rezko jailed for fraud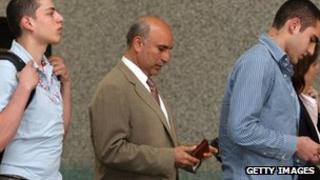 Disgraced former Illinois Governor Rod Blagojevich's top fundraiser has been sentenced to 10-and-a-half years in jail for corruption.
Antoin Rezko, a former Chicago real estate developer, used his influence to secure government deals and kickbacks.
The 56-year-old also was a political fundraiser for Barack Obama during his campaigns to be senator for Illinois.
Mr Obama was not accused of wrongdoing, but his political enemies attempted to exploit the issue in 2008's election.
'Extensive corruption'
Rezko's legal team had asked the federal judge to set him free, taking into account the three-and-a-half years of prison time he has already served.
But as she passed sentence, US District Judge Amy St Eve said: "You defrauded the people of Illinois; you engaged in extensive corruption throughout the state of Illinois."
Syrian-born Rezko was convicted in 2008 of fraud, money laundering and planning millions of dollars in kickbacks for contracts during Blagojevich's term in office.
Blagojevich was convicted this year on charges that included trying to sell President Obama's old Senate seat. He is expected to get about 10 years when he is sentenced next month.
Rezko's sentencing was postponed after he agreed to co-operate with prosecutors, but authorities say he could not provide any useful information.