Three US students arrested in Cairo protests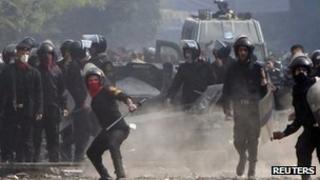 Three US students have been arrested, accused of throwing petrol bombs at security forces during protests in the Egyptian capital's Tahrir Square.
The trio, studying at the American University in Cairo, have been named as Derrik Sweeney and Gregory Porter, both 19 years old, and Luke Gates, 21.
They were questioned earlier on Tuesday, university spokeswoman Morgan Roth told the BBC.
US embassy officials in Cairo told the BBC they are involved with the case.
The students, whose photos have been shown on Egyptian national TV, have been in Egypt on a study-abroad programme.
Dozens of people have died during four days of protests in Cairo, as demonstrators demand the military yield power to a democratically elected leadership.
An official from the Egyptian interior ministry told the Associated Press that when arrested the students had been on the roof of a university building overlooking Tahrir Square, throwing firebombs at police.
According to Ms Roth, the American University in Cairo spokeswoman, the three have been held by Egyptian authorities since the arrest.
A university counsellor, as well as two US embassy officials were present at the trio's questioning, Ms Roth said.
Joy Sweeney, Mr Sweeney's mother, described her son as an idealist who has been caught up in the protests.
She and Mr Gates father, Bill Gates have been contact with the US embassy, but have little information on their sons.
"I don't think anybody really knows what to expect," Mr Gates said.
'Change-the-world'
Joy Sweeney said her son had found himself in the middle of dramatic events.
"He got caught up in the whole college-change-the-world mentality, and he believes in democracy strongly," she told the Associated Press news agency.
Mrs Sweeney said, however, that her son is not a violent person, and that he often serves as the family peacemaker.
"I don't believe that he would intentionally throw a bomb at anyone," she said. "I don't believe that."
A student at Georgetown University in Washington DC, Mr Sweeney had interned earlier in 2011 with Representative Blaine Luetkemeyer, a Republican from Missouri.
Mr Sweeney told his mother he attended previous protests in Cairo but stopped after people were killed in one demonstration.
Mr Sweeney is from Jefferson City, Missouri; Mr Gates, of Bloomington, Indiana, studies at Indiana University; and Mr Porter, from Glenside, Pennsylvania, attends Drexel University.
Mr Porter graduated from high school in 2010. A spokesman for the school said he was a "really good kid" who came seventh in a national debate competition in 2009.