Wikileaks suspect Bradley Manning given court date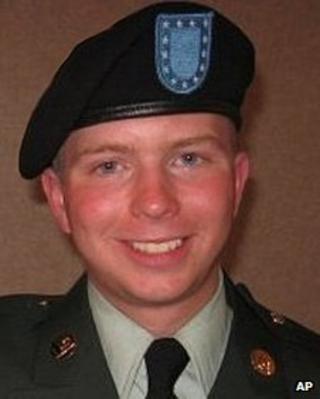 A US Army analyst suspected of leaking government secrets will face a military court on 16 December, his lawyer says.
Bradley Manning faces charges of obtaining and distributing government secrets - which he allegedly leaked to the anti-secrecy website Wikileaks.
The Article 32 hearing will determine whether Mr Manning is to stand trial and is the first opportunity for his defence team to present their case.
Mr Manning was arrested in Iraq in May 2010 and is held in military custody.
During the Article 32 hearing, which is similar to a pre-trial hearing, both prosecuting and defence lawyers will make their initial cases and are permitted to cross-examine witnesses.
Proceedings are expected to last around five days, after which recommendations will be made to a military general, who will decide whether to proceed to a full trial, according to his lawyer, David Coombs.
Confinement
Mr Manning has also been charged with "aiding the enemy", a charge that could carry the death penalty. However, reports say prosecutors will only seek a prison sentence.
The conditions of Mr Manning's confinement since the time of his arrest have been the subject of criticism.
State department spokesman PJ Crowley resigned after publicly criticising the detention conditions of Mr Manning, and British politicians have also spoken out on the subject.
Mr Manning was brought to the maximum security prison at Quantico in July 2010, where he was held in isolation and was reported to have had his clothing removed at night as a suicide-prevention measure.
But in April 2011 Mr Manning was moved to a lower security prison at Fort Leavenworth, where his lawyers say conditions are better.