Craigslist 'murder plot': Two arrested in Ohio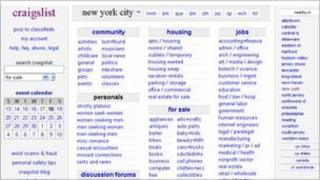 A man and a teenage boy have been arrested in Ohio in connection with a plot to murder job-seekers responding to advertisements on Craigslist.
A man from South Carolina, who accepted a job as a farm-hand, had a cocked gun pointed at the back of his head but escaped with a wound in the arm.
Investigators found the body of another man from Florida in a grave nearby, and believe robbery was the motive.
The teenager is accused of attempted murder. The man is not yet charged.
The two suspects are a 52-year-old man and 16-year-old boy, both from Akron, Ohio, according to the Akron Beacon Journal.
Remote location
A neighbour, Don Warner, described the remote Ohio property as "an ideal place to get rid of a body".
The densely wooded plot is owned by a coal company and was formerly the site of a strip mine. Today, it is rented out to hunters.
It has no lights and is accessible only by single-lane gravel paths.
The victim, whose name has not been released, managed to escape the property on 6 November after he was shot in the arm and hid in the woods for hours, eventually seeking help at a farmhouse near Caldwell, Ohio.
Local media report that the man told the owner of the farmhouse that he had answered an advertisement on Craigslist for a job erecting fences on a cattle farm.
Sheriff Stephen Hannum said the man was told to bring his belongings with him to Ohio as he would be living on the farm.
Days after the incident was reported, police received a call from the second victim's sister.
She said she had not heard from her brother in weeks and told authorities he had also responded to a Craigslist advertisement for a helper on a 688-acre (278 hectare) farm.
This week, cadaver dogs were brought to the property. They located a hand-dug grave - apparently intended for the man who escaped - while the body of the Florida man was found in a shallow grave close by.
The cause of death for the Florida man is not known.
"We brought in cadaver dogs thinking that a possibility that the person that was advertising on Craigslist and lured this guy down here may very well have lured someone else to the same area," the sheriff told the Associated Press news agency.
"Our hunch was correct."