Abuse claims hit Syracuse University basketball coach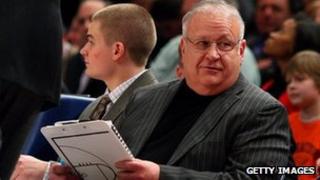 A veteran assistant coach for Syracuse University's basketball team has been put on administrative leave amid accusations he molested young boys.
Bobby Davis, now 39, told sport network ESPN that Bernie Fine molested him repeatedly for 10 years from 1984.
The university said it investigated and dismissed the allegations in 2005.
The allegations come after a former Penn State coach, Jerry Sandusky was arrested on charges of sexually abusing young boys - accusations he denies.
The allegations of abuse at Penn State led to the dismissal of the university president Graham Spanier and head football coach Joe Paterno for failing to act on the reports of molestation.
On Friday, Mr Paterno's son said that his father - one of the most famous coaches in American sport - had been diagnosed with a treatable form of lung cancer.
He added that doctors were "optimistic" his 84-year-old father would make a full recovery.
'High standards'
Bernie Fine - who has been the assistant basketball coach at Syracuse for 35 years - was accused of abuse by two men, Bobby Davis and his step-brother Mike Lang.
Both men said Mr Fine molested them for multiple years, often reaching into their shorts and rubbing their genitals.
The incidents allegedly occurred both at Mr Fine's home as well as on the road, including at the 1987 Final Four, the US college basketball tournament.
The university placed Mr Fine on leave when the allegations surfaced on Thursday.
In an email to students on Friday morning, Syracuse Chancellor Nancy Cantor said the allegations would be taken seriously.
"We hold everyone in our community to high standards and we don't tolerate illegal, abusive or unethical behaviour - no matter who you are," she wrote.
Head coach defiant
However, head basketball coach Jim Boeheim defended Mr Fine, telling ESPN the university had investigated the same allegations in 2005, and concluded they were unfounded.
"I've known Bernie Fine for 45 years, and there's absolutely no way that I believe any of this could possibly have happened," Mr Boeheim said, saying he believed the men were motivated by financial incentives.
Mr Davis said he never told the head coach about the alleged abuse, but that Mr Boeheim saw him in Mr Fine's hotel room on road trips.
In a statement, Syracuse University officials said they investigated the allegations for four months in 2005, after "an adult male" came to them.
Mr Fine "vehemently denied the allegations", they said, and "all of those identified by the complainant denied any wrongful conduct".
Syracuse police have opened an investigation into the allegations, saying they will interview both Mr Davis and Mr Lang.