Detroit in financial crisis, Mayor Bing says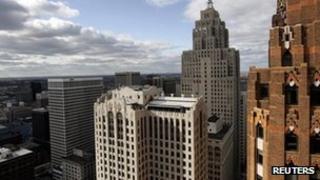 The city of Detroit needs to take immediate action to prevent bankruptcy or a state takeover, Mayor Dave Bing said in a televised address.
Detroit will run out of cash in April and be $45m (£28.5m) short by the end of the fiscal year in June, he said.
Mr Bing urged municipal unions to accept cuts and state leaders to pay the city $220m from a 13-year-old tax agreement.
The mayor also asked for a 0.9% increase in business taxes.
His administration has said Detroit has an accumulated deficit about $150m in its $3.1bn annual budget.
"Simply put, our city is in a financial crisis, and city government is broken. That's not new. That's not an opinion. That is a fact," said Mr Bing.
"Let me make one thing perfectly clear: I don't want an emergency manager making decisions for my city."
A state law passed in March expands the power of state-appointed financial managers, allowing them to intervene earlier in the financial decisions of municipalities.
Emergency managers have already been appointed for the Detroit public school system - as well as the cities of Pontiac, Ecorse and Benton Harbor.
In a statement, Michigan Governor Rick Snyder, said he wanted to avoid an emergency manager for the city, "if at all possible".
Some Michigan residents have sued over the new law, arguing it goes against the Michigan constitution.
No bargains
Following Thursday's speech, Mr Bing said the city would be cutting 1,000 jobs early next year in a bid to help the budget crisis.
On Friday, the mayor's office said that the cuts represent 9% of the city's workforce and will save $12m.
Mr Bing's speech outlined his plan to take the city out of financial insolvency - including a 10% cut in wages for the city's unionised workers and as well as a 10% increase in employee payments for health insurance.
"The reality we're facing is simple. If we continue down the same path, we will lose the ability to control our own destiny," Mr Bing said.
Union officials said finding savings by cutting salaries wouldn't solve the city's structural issues.
"The mayor doesn't bargain," Catherine Phillips, chief negotiator for a local government employees union, told the Detroit Free Press. "The problem isn't us, it's the layers and layers of management that should go."
Detroit says it is also waiting on $220m in state funding. In 1998, the city lowered its income tax in exchange for guaranteed levels of revenue sharing from Michigan.
The law allowed the city to suspend the tax decrease if local unemployment went above 10%. That occurred in 2003 - and Detroit suspended the tax decrease in 2004, according to the Free Press.
Detroit's population and tax revenues have been sharply decreasing since 2000. Since that year, 250,000 people have left the city.