George Wright 'wins US extradition case in Portugal'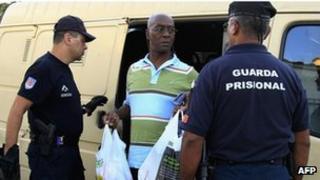 A Lisbon court has denied a US request for the extradition of American fugitive George Wright, his lawyer says.
The extradition was refused on the grounds that Wright is a Portuguese citizen.
The US Justice Department said it was "extremely disappointed" with the decision.
Wright was captured near Lisbon in September after more than 40 years on the run. The FBI tracked him down.
The US wanted him back to serve the rest of his 15- to 30-year sentence for a 1962 murder.
Wright escaped from a New Jersey prison in 1970 and hijacked a US airliner two years later.
"The Lisbon appeals court ruled that he had Portuguese citizenship and will not be extradited," his lawyer, Manuel Luis Ferreira, told the French news agency AFP.
Mr Ferreira also said the statute of limitations had expired.
Murder and hijack
Speaking to journalists from his lawyer's office, Wright, praised the court's ruling.
"I am very pleased and I want to thank the Portuguese courts for having made the right decision", he said, adding that he had a "clear conscience".
Reacting to the Portuguese court's decision, US Justice Department spokeswoman Laura Sweeney said Wright was "a convicted murderer guilty of an extremely serious crime which falls squarely within the terms of our bilateral extradition treaty with Portugal".
She did not say whether the American authorities would appeal, but said the US expected Portugal to abide by its treaty obligations.
Wright, 68, was under house arrest at his home near Lisbon, wearing an electronic tag that monitored his movements.
But his lawyer told AFP he was now free.
He took legal action to fight the US extradition order.
His lawyer, Manuel Luis Ferreira, had argued Wright should serve any prison term in Portugal, where he is now a citizen and where his wife and two grown children live.
"I have no doubt that if he goes back [to the US] he will die. He is very afraid," his lawyer said in October, adding that his client was in poor health.
"He believes they think that he tried to humiliate them, that they'll make an example out of him... he believes that he will be killed in prison."
The US wants him extradited to serve the remainder of his sentence for the 1962 murder of a petrol station owner in New Jersey.
Wright served seven years at Bayside State Prison in Leesburg, New Jersey, before breaking out with three other inmates.
Then aged 29, and as part of the militant Black Liberation Army group, he hijacked a US Delta airlines plane to Algeria in 1972, the FBI says.
Wright, disguised as a priest, is said to have produced a gun from a hollowed-out Bible and held it to a flight attendant's head.
At Miami airport, he and his accomplices demanded a $1m ransom.
The passengers were freed after the money was delivered by FBI agents forced to wear only swimsuits so the gang could see they were unarmed.
While the other hijackers were later caught, Wright remained at large for more than four decades - until his arrest in rural Portugal last month.
In 1991, after marrying a Portuguese woman, Wright became a Portuguese citizen and took the name Jose Luis Jorge dos Santos.
This new identity was given to him by Guinea-Bissau, a former Portuguese colony in West Africa, but was recognised by Portugal when Wright was granted political asylum there in the 1980s.