Canadian Mounties face sexual harassment allegations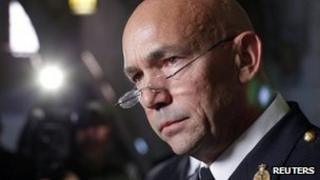 The Canadian Mounties will investigate the force's handling of sexual harassment claims, says the force's new commissioner, Bob Paulson.
The probe comes after a high-profile female Mountie alleged constant harassment, including officers exposing themselves to her.
Her public statement has led to additional allegations from current and former female Mounties.
Minister of Public Safety Vic Toews also called for an investigation.
"This is not about dealing with individual complaints but getting to the bottom of a system that seems to be failing members of the RCMP [Royal Canadian Mounted Police]," Mr Toews told reporters.
'Cannot stand'
Corporal Catherine Galliford, a former RCMP spokeswoman, said years of sexual harassment led to her diagnosis of post-traumatic stress disorder and agoraphobia.
In a 115-page internal complaint she provided to CBC News, Cpl Galliford says she faced constant harassment from several senior officers since graduating from the RCMP Academy in 1991.
"Everything that came out of his [a supervisor's] mouth was sexual," she said "If I had a dime for every time one of my bosses asked me to sit on his knee, I'd be on a yacht in the Bahamas right now."
Cpl Galliford also alleges a supervisor exposed himself to her while working a Missing Women's Task Force.
Krista Carle, one of four women officers who say they were sexually assaulted by an undercover officer during the 1990s, said the RCMP did not react properly to their claims.
"I know for a fact there are at least six women that I know [who] have left the force or are still in that have suffered harassment," Ms Carle told CBC.
"I'm sure there are others who are afraid to come forward for fear of reprisals."
Cpl Galliford says she will join her colleagues in suing the RCMP.
Image 'tarnished'
The RCMP has been criticised for its handling of other matters in recent months - including the kidnapping of Robert Fowler, a diplomat who was snatched in Niger, as well as failing to prevent a riot in Vancouver after a hockey game in June.
Mr Paulson, a veteran officer who was announced as RCMP's new commissioner on Wednesday, said the sexual harassment investigation would be the first step in repairing the Mounties' damaged reputation.
"These allegations do not represent the force that I joined and this condition cannot stand," Mr Paulson said on Wednesday.
"I am not prepared to say the [force's] image has been tarnished to the extent that there is no hope out there."