Occupy Wall Street: Night thins Zuccotti Park crowd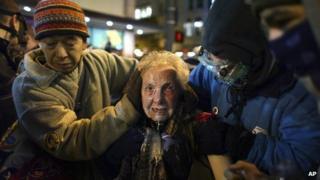 Just 30 people stayed overnight in Zuccotti Park, New York, after a ban on tents and sleeping bags at Occupy Wall Street, reports say.
After reopening the park at 17:30 EST (22:30 GMT) on Tuesday, demonstrators attempted to stay awake as police officers lined the park overnight.
Some slept at local churches that opened their doors to protesters.
Elsewhere, police used pepper spray at Occupy Seattle, with an 84-year-old woman among those doused.
Police arrested some 200 people in New York in a surprise pre-dawn raid on Tuesday and later detained several journalists.
Later in the day, New York Supreme Court Justice Michael Stallman denied a motion brought by lawyers for the protesters.
He ruled that rights guaranteed under the first amendment to the US constitution did not entitle them to camp out indefinitely in the plaza.
His judgment allows continued demonstrations, but prevents "tents, structures, generators and other installations".
The park's rules - engraved on signs around the area - now include no lying down.
Events in New York were followed by new clampdowns on other Occupy protests elsewhere in the US.
In Seattle, police pepper-sprayed an 84-year-old activist, Dorli Rainey, and a pregnant woman.
Seattle police spokesman Jeff Kappel wrote on the department's blog that pepper spray was only used against those "engaging in assaultive behaviour toward officers". He told the Associated Press he had no details on the incident with Ms Rainey.
In another legal ruling, a federal judge denied protesters' attempts on Tuesday to gain a temporary restraining order that would prevent officials from closing down Occupy Dallas.
Dallas Mayor Mike Rawlings said no immediate action was being taken, and that he would discuss "next steps" with the group's lawyers on Wednesday.
New sleeping arrangements
Some protesters in New York say that the ban on sleeping in the park is a blessing in disguise.
"Now it's time for us to not be tucked away in Zuccotti Park, and have different areas of occupation throughout the city," Pete Dutro, who runs the group's finances, told the Associated Press.
As protesters were allowed back into Zuccotti Park on Tuesday evening, they discussed new plans and the mood remained positive, according to a BBC reporter at the park.
Organisers handed out ponchos as rain began to fall, but there was no immediate sense of a concerted plan, our reporter said.
Police said there was no official curfew, but stressed protesters would not be allowed to sleep at the park. Protesters with backpacks and large bags were not allowed inside.
In addition to nearby churches, demonstrators slept at tables at the McDonald's across from the park.
In his ruling, Mr Stallman said the activists had not "demonstrated that the rules adopted by the owners of the property... are not reasonable time, place, and manner restrictions permitted under the First Amendment".
Speaking after the judgement, New York's mayor said the rights of non-protesters were as important as the rights of those wanting to stay in the park.
Small-business owners had complained about the noise and unsanitary conditions in Zuccotti Park, accusing demonstrators of messing up their toilet facilities and driving away customers.
A number of other US protest camps have also been cleared in recent days.
Police arrested dozens of people in Oakland, California as they closed the protest camp in the centre of that city on Monday morning.
There was a fatal shooting near the camp last week and Oakland Mayor Jean Quan said she had to evict the demonstrators "before someone else got hurt".
Since the weekend, police have also closed solidarity protest camps in Portland, Oregon; Burlington, Vermont; Denver, Colorado; Salt Lake City, Utah; and St Louis, Missouri.
"I was recently on a conference call with 18 cities across the country who had the same situation," Ms Quan told the BBC.
While several mayors of cities with Occupy encampments confirmed their participation in the 10 November conference call, they denied the call meant they had co-ordinated clearout efforts.
A spokeswoman for Portland Mayor Sam Adams said the mayors "traded notes about what was going on with Occupy protests".