Osama Bin Laden was tender and kind, Zawahiri says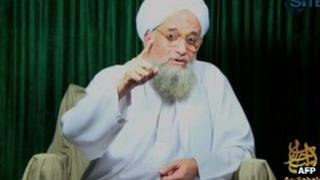 Osama Bin Laden has been described as both "tender" and "kind" in a video released by the new head of al-Qaeda.
Ayman al-Zawahiri, who took over at the head of the network after Bin Laden was killed in Pakistan in May, said the former leader was a sensitive man.
The video, entitled Days with the Imam: Part One, lasts about 30 minutes. It has been posted on jihadist websites.
Zawahiri said he had created the video to show Bin Laden's "human side" and tell people about his great loyalty.
"People don't know that this man was tender, gentle, kind, with refined feelings, even when life was hard," Zawahiri says in the video, dressed in a white robe and turban and sitting in front of a green curtain.
"We never saw a man like him."
Tearful
Zawahiri, who met Bin Laden in Pakistan in the mid-1980s when both were supporting fighters battling Soviet forces in Afghanistan described his time spent with Bin Laden as an "honour".
He recalls how Bin Laden reacted when he received the news that some members of Zawahri's family had been killed. With tears in his eyes, Bin Laden came to see him and hugged him.
He adds that Bin Laden was devoted to his children, paying great attention to ensuring that they were well-educated, despite constantly moving from place to place.
"Everyone close to him saw the fine and noble education in his children," he said, adding that Bin Laden employed a teacher who would threaten to beat the children with a stick to teach them the Koran.
Bin Laden, he said, did not want those who carried out the September 11 attacks - which killed nearly 3,000 people - to be forgotten.
"The sheikh would remember with goodness and gratitude and be moved by the memory of the 19 brothers who attacked the idol of our age, America," Zawahiri said. "He would remember these brothers with extreme fidelity."
Once, when the pair were hiding in the Afghan mountains of Tora Bora, he said Bin Laden wrote death certificates for each one of the hijackers, fearing he would be killed "without remembering these heroic martyrs".
Analysts suggest that the fond memories of the terror group's former leader have been shared in part to try and boost his own popularity with al-Qaeda followers, by emphasising his closeness to the charismatic leader.