Penn State coach Mike McQueary: 'I did stop it'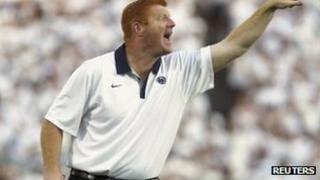 Mike McQueary, who witnessed an alleged sexual assault by former Penn State coach Jerry Sandusky, says he believed he handled the situation the right way.
In an email, Mr McQueary said he stopped the assault - although not physically - and spoke with the police.
The email was forwarded to the Associated Press news agency by a man described as a friend of Mr McQueary.
In a short TV interview, the assistant coach told CBS News that his emotions were "all over the place".
US media are reporting that additional alleged victims have come forward since Mr Sandusky's initial arrest.
Mr Sandusky is charged with multiple counts of sexual abuse of eight young boys over the course of a 15-year-period.
'I did stop it'
"I did stop it, not physically... but [I] made sure it was stopped when I left that locker room... I did have discussions with police and with the official at the university in charge of police," Mr McQueary wrote in the email.
According to prosecutors, Mr McQueary spoke with his father immediately after he left the university's locker room, and then reported the incident to Joe Paterno, Penn State's head coach, the next morning.
The grand jury statement indicates that Mr Paterno and Mr McQueary described what the then-graduate assistant saw to two additional university officials - but never to university police or other law enforcement.
"No-one can imagine my thoughts or wants to be in my shoes for those 30-45 seconds ... trust me," he wrote in the recent email.
"I am getting hammered for handling this the right way... or what I thought at the time was right."
Mr McQueary has not previously spoken about the allegations or his actions.
He was put on administrative leave last week and was not allowed to attend Penn State's final home game of the season on Saturday. University officials said they had received "multiple threats" against the coach.
Mr Paterno - a legendary football coach with the most wins in top division college history - and the university's president, Graham Spanier, were fired by the Penn State Board of Trustees last week for failing to act over the alleged abuse.
On Sunday, Jack Raykovitz, the chief executive of the Second Mile Foundation, which Mr Sandusky started in 1977 to help at-risk children, resigned.
In an interview with NBC News, Mr Sandusky said he was not a paedophile, but admitted that he "shouldn't have showered with those kids".
"I have horsed around with kids. I have showered after workouts. I have hugged them and I have touched their legs without intent of sexual contact," Mr Sandusky said.