Protesters circle NY's Zuccotti Park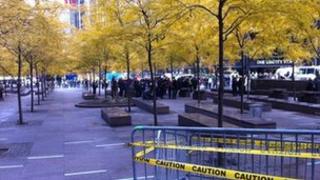 Protesters are circling Zuccotti Park, chanting: "Whose park? Our park!" while the space inside has been thoroughly scrubbed and cleaned. Earlier this morning the smell of disinfectant was in the air.
The protesters firmly believe that a court order means that they should be allowed back into the square. That is the interpretation of the protesters' lawyers, too.
But the police - in full riot gear - do not agree and are ringing the metal barriers that are blocking off the park.
The mood seems to change by the minute. For a few moments it is angry and confrontational. Then the demonstration seems almost dutiful, by rote, and then there is a sudden mood of celebration as a trumpet plays a Mariachi tune.
One man tells me that they are going to force their way back in. He tells me: "There is a tsunami on the way."
Another man warns the police: "We're on for a rumble."
But they are very much in the minority and there are a large number of people carrying banners urging non-violence.
What really interested me was talking to some construction workers who are working on the World Trade Center site.
They all tell me the same thing: first, they are glad the protesters have gone and the space where they used to eat their sandwiches or smoke a cigarette is now clean again. They say the protesters were "riff-raff".
But to a man and woman, they seem almost amazed when I ask about their cause.
"Of course they're right. The banks got the bail out, didn't they? We didn't."