Chelsea Clinton in NBC news role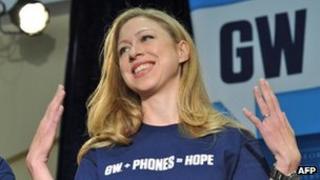 Chelsea Clinton, the daughter of former US President Bill Clinton and current Secretary of State Hillary Clinton, has been hired by NBC News.
The US broadcaster said Ms Clinton, 31, would file reports for its Making a Difference series, which focuses on public service.
The reports will appear on evening news and news magazine programmes.
Ms Clinton is studying for a doctorate and recently joined the board of IAC, a media company.
She is expected to begin her NBC role immediately as a special correspondent.
Since her father became president in 1993, Ms Clinton has kept a low profile, with the exception of campaign appearances for her mother's run for the presidency four years ago.
The president of NBC News, Steve Capus, told the New York Times he met Ms Clinton and had a conversation about "what she wanted to do next".
In a statement, he praised Ms Clinton.
"Given her vast experiences, it's as though Chelsea has been preparing for this opportunity her entire life," he said.
The broadcaster says its new hire will continue to work with the Clinton Foundation while reporting for NBC.
Ms Clinton is not the first daughter from a prominent US political family to join NBC News.
Jenna Bush Hager, 29, daughter of former President George W Bush, works as a correspondent for the network's morning show Today.
Meghan McCain, 27, daughter of former Repubican presidential candidate and Senator John McCain, is a contributor to cable news network MSNBC.