Gabrielle Giffords in first TV interview since shooting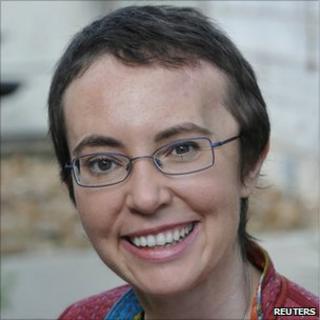 The US congresswoman shot in the head in January has been speaking publicly about her recovery for the first time.
Gabrielle Giffords of Arizona spoke to Diane Sawyer for ABC's 20/20 programme.
Six died and 13 were injured in the shooting at a constituency event in Tucson, Arizona.
Ms Giffords told ABC she was feeling "pretty good" but added her recovery had been "difficult" - she has had to relearn simple acts like nodding and smiling.
ABC also interviewed her astronaut husband Mark Kelly, who retired from Nasa after leading one of the US agency's last shuttle missions over the summer.
Asked whether she was still in pain, Ms Giffords replied: "It's difficult."
The interview was broadcast with home video clips filmed by Mr Kelly documenting his wife's recovery.
Mr Kelly said of the videos: "I just thought, she's going to ask, 'OK, what was all that like?'"
Conducted in October, the interview was aired on Monday.
Ms Giffords underwent treatment in hospital after the attack until beginning outpatient treatment in June.
She made her first appearance in Congress since the shooting in August to vote for the raising of the US debt limit, prompting a standing ovation.
Jared Loughner, the man accused of shooting Ms Giffords, is being held in a mental health facility while doctors attempt to treat him so he can be tried for the attack.
He has pleaded not guilty.