Republican presidential rivals debate foreign policy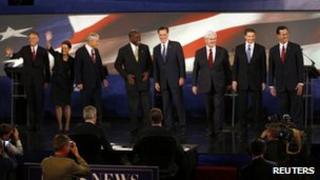 The eight contenders for the US Republican presidential nomination have debated foreign policy in the state of South Carolina.
They said they would stop Iran from developing a nuclear weapon, but differed over how to do it.
Mitt Romney, one of the frontrunners so far in the Republican race, vowed to stop Iran by a pre-emptive military strike if needed.
Herman Cain said the only way to stop Iran was through economic means.
The businessman, whose campaign has been dogged by sexual harassment allegations recently, spoke about squeezing Tehran through sanctions and boosting Iran's opposition movement.
Mitt Romney, a former Massachusetts governor, said: "One thing you can know is if we elect Barack Obama, Iran will have a nuclear weapon. If you elect me as the next president, they will not have a nuclear weapon."
Newt Gingrich, a former speaker of the House of Representatives, came to Spartanburg, South Carolina, riding a new wave of support as the conservative alternative to the more moderate Mr Romney.
He declared he would launch covert operations within Iran.
Mr Gingrich said: "There are a number of ways to be smart about Iran, and a few ways to be stupid. The (Obama) administration skipped all the ways to be smart."
Ron Paul, a congressman from Texas, wanted no part in a military strike. "It's not worthwhile to go to war," he said.
The candidates made no major stumbles during the 90-minute debate, but Texas Governor Rick Perry's belief that the United States should consider eliminating foreign aid to Pakistan stirred debate among the candidates.
Afghanistan
Mr Perry, hurt by a string of poor debate performances, including an embarrassing gaffe on Wednesday that some observers say might have crippled his campaign, was insistent that Washington should consider cutting aid.
While Mr Gingrich agreed, former Senator Rick Santorum was adamantly opposed.
"Pakistan is a nuclear power," Mr Santorum said. "We cannot be indecisive about whether Pakistan is our friend. They must be a friend."
The Republican presidential hopefuls also disagreed about the correct course in Afghanistan and the use of waterboarding as a means of interrogation.
On waterboarding, Herman Cain and Michele Bachmann, said they would reinstate the technique designed to simulate drowning.
On Afghanistan, former Utah Governor Jon Huntsman and Ron Paul both said it was time for US troops to come home after an engagement lasting 10 years.
By contrast, Mitt Romney and Rick Perry said military commanders on the ground should take the lead about when to withdraw troops. They criticised President Obama for "telegraphing" the nation's intentions.