Penn State abuse scandal: Mike McQueary placed on leave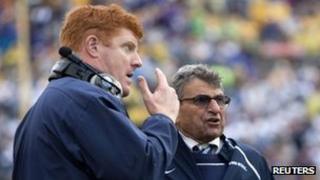 Penn State assistant football coach Mike McQueary has been placed on administrative leave and will not attend the team's final home game.
Mr McQueary has said he witnessed former assistant football coach Jerry Sandusky sexually abusing a young boy.
Penn State's new president Rod Erickson said there would be heightened security at the match on Saturday.
Meanwhile, President Obama said the scandal at Penn State should lead to "soul-searching" by all Americans.
Attending at a college basketball game held on the US Veterans Day holiday, Mr Obama said it was the responsibility of Americans to speak up when they see someone mistreated, and not rely on bureaucracy, the Associated Press reported.
'Resilient'
The probe into alleged abuses by Mr Sandusky - who denies the accusations - has widened to the state of Texas.
"It became clear that coach McQueary could not function in this role under these circumstances," Mr Erickson Rod Erickson told a news conference.
Mr McQueary, who testified in the grand jury investigation against Mr Sandusky, has not spoken publicly.
Mr Erickson, previously the university's provost, said that he would focus on rebuilding trust in the university, which is one of the largest academic institutions in the US.
The scandal has already seen legendary head football coach Joe Paterno and the university's president forced out of their jobs.
"I know we can do this. We are resilient," Mr Erickson told trustees.
'Moral bearing'
Mr McQueary, an assistant coach, had received "multiple threats" ahead of Saturday's game, Mr Erickson said.
The new university president said additional security would be on hand, and that there would "special attention" paid to the conduct of spectators at the match.
Thousands of Penn State students took to the streets in support of Mr Paterno after he was fired on Wednesday night, with some rioting breaking out.
The scandal centres on allegations that Mr McQueary saw Mr Sandusky raping a boy as young as 10 (known in the grand jury testimony as Victim 2) in a locker room shower in 2002.
A distraught Mr McQueary reported it to Mr Paterno, who said he alerted the university's athletic director, Tim Curley, and senior vice-president Gary Schultz. They in turn informed University President Graham Spanier.
But police say the allegation was never reported to them.
Head coach Joe Paterno, accused of failing to act, was fired on Wednesday.
Mr Spanier was also sacked on Wednesday, while Mr Curley and Mr Schultz are charged with failing to report the suspected abuse and of perjury during their grand jury testimony.
Mr Erickson declined to say whether Mr McQueary would also be fired.
"There are complexities to that issue that I am not prepared to go into at this point," he said.
The mother of one of the alleged victims told ABC News on Friday that her son was afraid to come forward and accuse Mr Sandusky.
Her identity concealed, she said the right action had been taken against Mr Paterno and other Penn State officials accused of failing to notify the authorities.
"There's got to be some moral bearing, in my opinion. Yes, they all needed to be gone," she said.
Penn State's board of trustees announced in a public meeting on Friday that they were forming an investigative committee into the university's failure to stop Mr Sandusky's alleged activity.
The committee, led by two of the trustees, plans to publicly release its findings.