Anger of Penn State boy's mother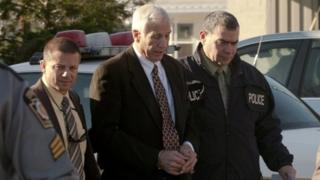 The mother of one of the alleged victims in the Penn State child abuse scandal has used a TV interview to demand justice for her son.
She told ABC News that her son had been afraid to come forward and accuse former assistant football coach Jerry Sandusky.
The investigation into alleged molestation by Mr Sandusky has now widened to the state of Texas.
Head coach Joe Paterno, accused of failing to act, was fired on Wednesday.
Assistant coach Mike McQueary, who has said he witnessed Mr Sandusky sexually abusing a young boy, has been placed on administrative leave.
Speaking to ABC News' Good Morning America on Friday, her identity concealed, the mother said: "I want justice. I want him to be locked up.
"There's no help for someone who does this. Not like this. He needs to be put away. He needs to be put away for a long time."
'Moral bearing'
She said she had asked her son why he did not inform her earlier and he replied: "'Well, I didn't know what to do… you just can't tell Jerry, no.'"
She said the right action had been taken against Mr Paterno and other Penn State officials accused of failing to notify the authorities.
"There's got to be some moral bearing, in my opinion. Yes, they all needed to be gone," she said.
Court papers, which refer to her son as Victim 1, describe how Mr Sandusky met the boy in 2005 when he was 11 or 12 through a charity for vulnerable children which the former coach had founded.
According to grand jury testimony, Mr Sandusky "indecently fondled Victim 1 on a number of occasions, performed oral sex on Victim 1 on a number of occasions and had Victim 1 perform oral sex on him on at least one occasion".
Texas prosecutors say they are looking into possible abuses that took place in 1999, when Mr Sandusky travelled there to see the Penn State team play.
A now-27-year-old man, identified as Victim 4, told the Pennsylvania grand jury that Mr Sandusky had threatened to send him home from Texas when he resisted the coach's advances.
'Multiple threats'
Penn State's board of trustees announced in a public meeting on Friday that they were forming an investigative committee into the university's failure to stop Mr Sandusky's alleged activity.
The committee, led by two of the trustees, plans to publicly release its findings.
"The purpose of this investigation is to ensure that the public understands everything that we learn in this investigation and a report will be made completely public as quickly as we possibly can," trustee Kenneth Frazier said.
Governor Tom Corbett, who has spoken in support of the trustees' decision to fire Mr Paterno, attended the meeting, in which trustees made the provost Rod Erickson officially the new president of the university.
In his first news conference as president, Mr Erickson said security would be boosted at Penn State's final home football game on Saturday.
Mr McQueary, an assistant coach, had received "multiple threats" ahead of Saturday's game, he said.
Mr McQueary has been placed on indefinite, paid administrative leave because he was unable to function in his current role, Mr Erickson said.
It is alleged that Mr McQueary saw Mr Sandusky raping a boy as young as 10 (known in the grand jury testimony as Victim 2) in a locker room shower in 2002.
A distraught Mr McQueary reported it to Mr Paterno, who said he alerted the university's athletic director, Tim Curley, and senior vice-president Gary Schultz. They in turn informed University President Graham Spanier.
But police say the allegation was never reported to them.
Mr Spanier was also sacked on Wednesday, while Mr Curley and Mr Schultz are charged with failing to report the suspected abuse and of perjury during their grand jury testimony.
Wednesday night's firings prompted outbreaks of disorder from Penn State fans that saw a news van overturned and missiles thrown.
Mr Sandusky, 67, was arrested last weekend accused of sexually abusing eight boys between 1994 and 2009.
He retired from Penn State in 1999, but continued to use the university's facilities for his work with the Second Mile foundation, a charity for disadvantaged children.