President Obama's Mid-East adviser Dennis Ross resigns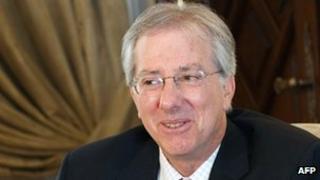 US President Barack Obama's special adviser on the Middle East Dennis Ross has resigned.
He is the second key adviser to step down in six months, following the resignation of envoy Senator George Mitchell.
Mr Ross had pledged to work at the White House for two years, but extended his time by another year in light of the Arab Spring upheaval.
He said he and his wife had agreed "it is time to act on my promise".
The White House said Ross would leave his National Security Council post at the end of the year.
Mr Ross had helped to "deepen our security relationship with Israel while pursuing Israeli-Palestinian peace", White House press secretary Jay Carney said.
He was also regarded as an important voice in US policy on Iran.
Mr Ross played "a critical role in our efforts to apply unprecedented pressure" on the Iranian government and had also supported democratic transitions in the region, Mr Carney said.
Dennis Ross was leading efforts in recent months to persuade Palestinian President Mahmoud Abbas's government to drop its bid for UN membership and to prod Israelis and Palestinians back into negotiations.
But those American entreaties have failed, and the two sides have not held direct talks in more than a year.