Nixon's Watergate investigation testimony made public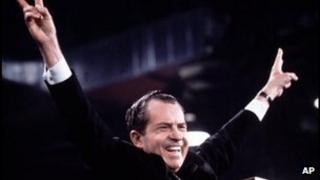 The US National Archives has released the grand jury testimony of former President Richard Nixon, made after the Watergate scandal forced him to resign.
Jurors asked about almost 19 missing minutes of a key conversation between Nixon and his chief of staff.
The former president swore it was an accident that tapes had been erased, saying "I practically blew my stack."
The secret testimony was given in June 1975 and released by order of a US judge following a historian's request.
Stanley Kutler of the University of Wisconsin has written a number of books about Nixon.
Speaking to the jurors near his home in California, the former president offered no clues as to what might have been discussed during the 18 minute 30 second gap in recordings.
Nixon's testimony was given under oath and contributed to a number of ongoing investigations into the Watergate scandal.
The grand jury was collecting evidence to determine whether to issue criminal charges relating to the Watergate case.
Perfect scandal
Watergate began with the arrest in June 1972 of five men for breaking into the Democratic National Congress offices at the Watergate complex in Washington DC.
Within two years it had forced President Nixon from the White House and become a byword for political scandal.
Revelations emerged largely through the work of a pair of Washington Post reporters, Bob Woodward and Carl Bernstein, who were fed information by a secret informant known only as Deep Throat.
In 2005, 33 years after the Watergate burglary, Deep Throat was revealed to be Mark Felt, a high ranking FBI official.
As investigations revealed that the burglars had been paid with funds from Nixon's presidential re-election campaign, the scandal spread beyond the break-in, implicating senior White House officials.
In April 1973 a number of top White House aides lost their jobs, and in July one aide disclosed that a secret taping system had recorded phone calls and conversations in the Oval Office.
Nixon refused to release the Oval Office tapes and then refused to comply with a subpoena for them, citing "executive privilege".
But they were eventually handed over in July 1974, and a recording - dubbed "the smoking gun" tape - revealed that Nixon played a leading role in the cover-up from the beginning.
The revelation led to his resignation as president in August 1974.