Dover mortuary to face Pentagon body parts review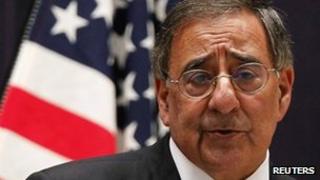 US Secretary of Defense Leon Panetta has ordered a 60-day review of mortuary operations at an Air Force base that lost portions of soldiers' remains.
A spokesman for Mr Panetta suggested that additional disciplinary action was possible.
Three supervisors at the mortuary were cited for what the Air Force called "gross mismanagement", but not fired.
All were demoted or moved to other departments, including a colonel who received a letter of reprimand.
"Let me make very clear to the families of our fallen heroes that every step will be taken to protect the honour and dignity that their loved ones richly deserve," Mr Panetta said in a written statement announcing the review.
George Little, a Pentagon spokesman told reporters the Air Force "did the right thing" by launching an investigation quickly.
A similar inquiry by the Office of the Special Counsel, an independent federal body based at the Department of Justice, said the Air Force failed to "acknowledge culpability for wrongdoing".
Credibility problems
The whistle-blowing mortuary workers revealed 14 specific incidents at Dover.
They including the discovery of an empty bag that was supposed to contain an ankle from a soldier killed in Afghanistan, the Washington Post reported.
In the search, officials found that the remains of two other soldiers were found to have gone missing three months earlier.
In one grisly incident in April 2009, mortuary workers were ordered to saw off the arm bone of a deceased soldier in order to fit his body into a military uniform for burial, in accordance with the wishes of his family.
The workers initially objected but eventually went ahead with the procedure on the order of their superiors - without gaining the consent of the family.
The Office of the Special Counsel's report said the US Air Force's conclusions "do not appear reasonable", considering the base's responsibility to handle the remains of war casualties with the highest regard.
"More concerning, however, are the findings that these managers ignored evidence given to them, presented baseless explanations that were 'simply not credible', and took affirmative steps to conceal the problem," Special Counsel Carolyn Lerner wrote in a letter to US President Barack Obama.