Herman Cain accuser Karen Kraushaar seeks solidarity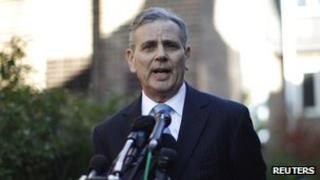 One of the women who accused Herman Cain of sexual harassment wants three other accusers to speak out at a joint press conference.
Karen Kraushaar has said Mr Cain harassed her in 1999, when she worked at the National Restaurant Association.
Sharon Bialek, who earlier in the week claimed that Mr Cain groped her in 1997, said she would participate.
Mr Cain has repeatedly denied the accusations from both women and says he has never met Ms Bialek.
On Tuesday, he said the accusations would not prevent him from continuing to run for president.
Mr Cain has been leading opinion polls of Republican presidential candidates for several weeks.
More details have been emerging about Karen Kraushaar, now a spokeswoman for the US Treasury department.
According to the Associated Press, Mrs Kraushaar filed a complaint of unfair treatment at the Immigration and Naturalization Service, some three years after she left the restaurant group.
She argued her supervisors had denied her request to work from home after a car accident, after allowing other employees to work from home.
She also accused one supervisor of circulating a sexually-oriented email. Mrs Kraushaar eventually dropped the complaint.
Federal employee
Mrs Kraushaar and her lawyer Joel Bennett said that as of Wednesday they had not heard from either of the other two known accusers.
"We are still hopeful that they will have the courage to come forward, but we completely understand if they choose not to," she said in a statement.
Mr Cain has called her claim, which resulted in a monetary settlement between Mrs Kraushaar and the association, "baseless".
As an current employee of the US Treasury department, Mrs Kraushaar said she had "no interest in getting involved in the presidential campaign".
She had chosen to remain anonymous until The Daily, an iPad-based news site, published her name on Tuesday.
Mr Cain said he remembers telling Mrs Kraushaar she was about the same height as his wife, a statement he believes made up part of her sexual harassment claim.
Mr Bennett said the claim involved "multiple incidents of harassment".
"My client is an intelligent, well-educated woman. She would never file a sexual harassment complaint about a comment like that," he said.