Germany's Pius Heinz wins $8.7m World Series of Poker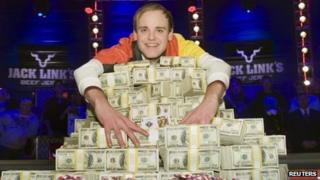 Professional card player Pius Heinz of Germany goes home $8.72m (£5.4m) richer after winning the World Series of Poker in Las Vegas.
The 22-year-old from Cologne won the final hand against Czech player Martin Staszko with an ace high.
The $10,000 buy-in no-limit Texas hold 'em series started in July with a field of nearly 7,000 players.
"I'm not sure what I'm going to do with the money," Heinz said. "Probably my family is going to get a few gifts."
Staszko will not go home empty-handed. His second-place showing won him $5.4m while third-placed Ben Lamb, from the US, took $4.0m.
Once Lamb was knocked out on Tuesday night, Staszko and Heinz battled it out over another 119 hands, exchanging the lead nine times.
"I tried not to lose my nerve," Heinz said. "At some point I was not making a hand. I was getting frustrated, honestly. I just tried to play my game."
Heinz said he was glad he continued with poker after considering returning to university earlier in the year.