Penn State coach Joe Paterno fired amid abuse scandal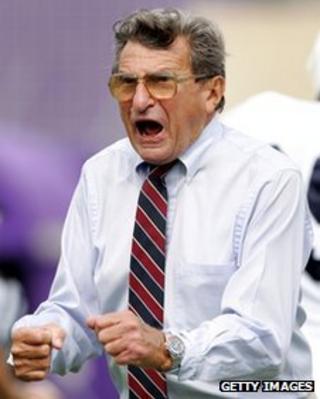 One of the most famous coaches in American sport has been sacked amid a child abuse scandal that has shocked the country.
Penn State's head football coach Joe Paterno had earlier said he would retire at the end of the season, and that he was "absolutely devastated".
University President Graham Spanier was also dismissed with immediate effect.
Mr Paterno has been accused of failing to act over alleged child abuse by long-serving assistant Jerry Sandusky.
Mr Paterno has not been implicated in the case.
News of the university trustees' decision emerged shortly after 22:00 local time on Wednesday (03:00 GMT) when officials held a news conference.
'Great sorrows'
Hours before news of his dismissal emerged, Mr Paterno said in a statement on Wednesday: "I am absolutely devastated by the developments in this case. I grieve for the children and their families, and I pray for their comfort and relief.
"I have come to work every day for the last 61 years with one clear goal in mind: to serve the best interests of this university and the young men who have been entrusted to my care. I have the same goal today.
"That's why I have decided to announce my retirement effective at the end of this season."
He added: "This is a tragedy. It is one of the great sorrows of my life. With the benefit of hindsight, I wish I had done more."
Addressing his players in the auditorium of Penn State's football building, Mr Paterno reportedly broke down in tears as he told his team he was leaving.
He said he wanted the team to finish the season with "dignity and determination" - but was eventually denied that opportunity.
Players gave him a standing ovation when he walked out.
Mr Paterno's announcement came three days before the Nittany Lions, Penn State's football team, play their last home game of the season against Nebraska.
The 84-year-old has won 409 games, a record for major college football, and was dismissed in the middle of his 46th year as coach.
Never reported
Former assistant football coach Mr Sandusky was arrested at the weekend for allegedly abusing eight boys between 1994 and 2009.
Mr Paterno has said he alerted the university's athletic director after he was informed in 2002 of an alleged serious sexual assault by Mr Sandusky on a boy as young as 10 in a locker room shower. But the incident was never reported to police.
Police have said that Mr Paterno fulfilled his minimum legal requirement but have suggested the coach had a moral responsibility to do more.
Penn State's athletic director Tim Curley along with the university's senior vice-president Gary Schultz were charged on Monday with failing to report the suspected abuse.
Both men are also accused of perjury during their testimony before a grand jury.
Mr Sandusky retired from Penn State in 1999, but continued to use the university's facilities for his work with the Second Mile foundation, a charity for vulnerable children.
He is facing 40 criminal charges, and has been released on bail.