Ohio vote repeals union limit law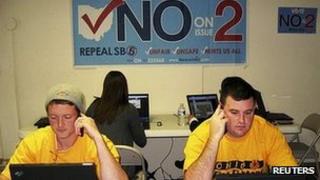 Ohio voters have struck down a law limiting unions' collective bargaining powers, dealing a blow to Republicans in a crucial election swing state.
The measure, which had not yet taken effect, was rejected by a nearly two-to-one margin in Tuesday's special referendum.
The law would have curbed bargaining rights for 350,000 public employees.
Labour unions said the result was a barometer of the national mood ahead of next year's presidential vote.
Democrats hope it heralds the beginning of an industrial Midwest backlash against the Republicans who were swept into office in 2010's midterm elections.
No Republican has won the White House without Ohio, and only two Democrats have done so in more than a century.
But in a warning to Democrats, voters in the state also approved a measure on Tuesday against President Barack Obama's healthcare law.
The approval of the ballot measure banning people from being required to buy health insurance was largely symbolic.
Republicans could still win control of Virginia's state senate by ousting an incumbent and splitting the legislative body 20-20. In that case the lieutenant governor, a Republican, would have the casting vote.
But that race is likely to go to a recount as only 224 votes separate the candidates.
Some of Tuesday's other national election results are being interpreted as a check to conservatives' momentum:
Voters in Mississippi rejected a measure that would have defined life as beginning at conception, banning virtually all abortions and some forms of birth control
Kentucky's Democratic Governor Steve Beshear was resoundingly re-elected despite high unemployment, budget shortfalls and a wave of attack advertisements
In another boost for incumbent parties, Mississippi voters followed the script by overwhelmingly electing Republican Phil Bryant as governor.
In Maine, voters reinstated same-day voter registration, which state Republicans had repealed in a move they said would stop voter fraud, but which Democrats said was a ploy to suppress voter turnout
In New Jersey's state legislature battle, Democrats held off Republicans who had hoped to capitalise on the popularity of Governor Chris Christie
In Arizona, Republican state Senator Russell Pearce, controversial sponsor of a hardline anti-illegal immigration law, lost a recall election to a moderate Republican who said the incumbent's policies had damaged the state's image
Ohio's labour law would have included a ban on strikes, scrapped binding arbitration and dropped promotions based solely on seniority. It would have permitted workers to negotiate wages, but not pensions or healthcare benefits.
More than $30m (£18.6m) from both labour and business interests were poured into Ohio's vote.
Governor John Kasich, who had toured the state to promote keeping the law, acknowledged defeat in a statehouse news conference.
"It's clear that the people have spoken," he said. "They might have said it was too much, too soon."
Richard Trumka, president of the AFL-CIO, one of the largest US unions, said the result had been sealed by Republican and Democratic voters.
"Ohio sent a message to every politician out there: go in and make war on your employees rather than make jobs with your employees, and you do so at your own peril," he said.
Ohio's labour law would have gone further than a similar one in the state of Wisconsin by including police officers and firefighters. In June, the supreme court in Wisconsin upheld that law.