Clean-up exposes 17 people to plutonium at Idaho lab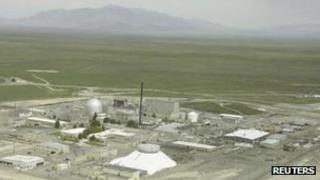 At least 17 people were exposed to plutonium at a US energy department research facility in Idaho during clean-up of a decommissioned reactor.
A statement from the Idaho National Laboratory said there was no evidence that radiation was released outside the facility.
All those exposed were undergoing full-body scans after being decontaminated.
Before it was decommission in 1992, the facility was used to build and test nuclear reactors.
Clean-up workers have been slowly demolishing the reactor, and last year millions of pounds of steel and other materials that made up the reactor core were removed.
But the shell and plutonium fuel that once powered the reactor remains.
The accident occurred inside the Materials and Fuels Complex, near the edge of the facility's 890-sq-mile (2,300-sq-km) site.
The exposed workers were in an area that required no special protective shielding, lab spokesman Earl Johnson told Reuters.
"We certainly didn't expect this to happen," he said.
The facility produced the first usable amounts of electricity generated by nuclear power in 1951, according to its website.