Penn State's Joe Paterno under fire in abuse scandal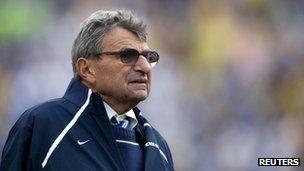 Pressure is building on one of the most famous figures in American sport to quit amid a child abuse scandal around a long-serving assistant coach.
Penn State head football coach Joe Paterno is under fire for not reporting the allegations of abuse to police.
Former assistant football coach Jerry Sandusky was arrested at the weekend for allegedly abusing eight boys over 15 years.
Mr Paterno himself has not been implicated in the case.
The 84-year-old has coached Penn State's football team for 46 seasons. Last month he became the coach with the most wins in the country's premier Division I level of college football.
Amid increasing calls for Mr Paterno to resign, the Pennsylvania university cancelled a news conference on Tuesday minutes before he was due to face questions about the scandal.
"Due to the ongoing legal circumstances centred around the recent allegations and charges, we have determined that today's press conference cannot be held and will not be rescheduled," the athletics department said in a statement.
Mr Paterno has said he alerted the university's athletic director after he was informed in 2002 of an alleged sexual assault by Mr Sandusky on a boy as young as 10 in a locker room shower. But the incident was never reported to police.
"If this is true we were all fooled, along with scores of professionals trained in such things, and we grieve for the victims and their families," Mr Paterno said in a statement on Sunday.
Penn State senior vice-president Gary Schultz and athletic director Tim Curley faced charges on Monday of failing to report suspected abuse by Mr Sandusky.
The pair are also accused of perjury over their testimony before a grand jury in the case.
Their lawyers said they are innocent and will seek to have the charges dismissed.
Pennsylvania state police Commissioner Frank Noonan said on Monday that Mr Paterno had fulfilled his legal requirement when he relayed the 2002 report to university administrators, but questioned whether the head coach had had a moral responsibility to do more.
"Somebody has to question about what I would consider the moral requirements for a human being that knows of sexual things that are taking place with a child," said Commissioner Noonan.
Mr Sandusky retired from Penn State in 1999, but continued to use the university's facilities for his work with the Second Mile foundation, a charity for vulnerable children.
He was arraigned on 40 criminal charges on Saturday and released on bail.