US General Peter Fuller fired as Afghan training chief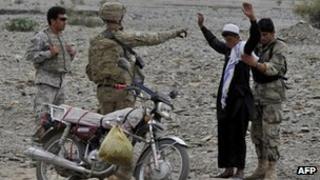 A senior US commander has been dismissed after he made disparaging comments about Afghanistan's leaders.
Maj Gen Peter Fuller, deputy commander of Nato's Afghan training mission, said in an interview with Politico the country's leadership was "isolated from reality".
It is not clear whether Gen Fuller will be reassigned or will retire.
The head of US forces in Afghanistan says Gen Fuller's comments do not represent the US-Afghan relationship.
Gen John Allen described the two countries as "solid", adding: "The Afghan people are an honourable people, and comments such as these will not keep us from accomplishing our most critical and shared mission - bringing about a stable, peaceful and prosperous Afghanistan."
Pentagon spokesman George Little said Defence Secretary Leon Panetta was aware of the remarks but said that Gen Fuller had been speaking for himself and not the Department of Defense.
'Poke me in the eye'
Speaking while visiting Washington, Gen Fuller told Politico on Thursday that Afghan President Hamid Karzai was an unimpressive public speaker.
"When they are going to have a presidential election, you hope they get a guy that's more articulate in public," he said.
Gen Fuller also said that he tried to make Afghan generals understand that the US was involved in Afghanistan despite economic uncertainty at home.
"You think that America has roads paved in gold, everybody lives in Hollywood," he said.
"They don't understand the sacrifices that America is making to provide for their security."
Politico have reported that the general appeared to be irritated when referring to a recent comment made by Mr Karzai - that Afghanistan would side with Pakistan if the country ever went to war with the US.
"Why don't you just poke me in the eye with a needle! You've got to be kidding me. I'm sorry, we just gave you $11.6bn (£7.2bn) and now you're telling me, 'I don't really care?'" Gen Fuller said.
Secretary of State Hillary Clinton has said that the Afghan president's statement has been misinterpreted.
The general also likened the Nato training mission in Afghanistan to teaching a man to fish.
"You can teach a man how to fish, or you can give them a fish. We're giving them fish while they're learning, and they want more fish!
"[They say] 'I like swordfish, how come you're giving me cod?' Guess what? Cod's on the menu today," he told Politico.
Gen Fuller is not the first senior military figure to find themselves in hot water over comments made to the media.
In the most serious case in recent years, Gen Stanley McChrystal resigned as commander of US forces in Afghanistan in June 2010 after making critical comments about senior members of the Obama administration that were published by Rolling Stone magazine.